Drug Innovation
The Masters in Drug Innovation programme focuses on diagnostics and the improvement and management of small molecule and biomolecular drugs. Drug innovation covers many topics such as the development of new vaccines and the study of antibodies, gene therapeutics, and medical nutrition. Once developed, a new drug needs to go through approval, which raises a whole new set of challenges, for example the establishment of new methods and criteria for evaluating the quality, efficacy, safety, and performance of the drug.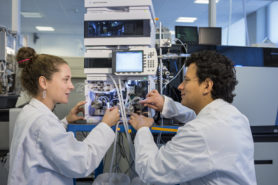 Drug Innovation is about:
developing new drugs to combat drug-resistant microorganisms
using gene or protein technologies to create therapies targeted at individual patients
finding a way to imprint the immune system to increase tolerance
exploring the relationship between gut microbes and brain disease
learning how to use proteomics or metabolomics to study for example stem cell development
reducing side effects of treatment through novel ways to deliver drugs directly to the diseased organ
updating and speeding up the drug regulatory process
More information can be found in the Study Guide of the Graduate School of Life Sciences and the Study Programme.